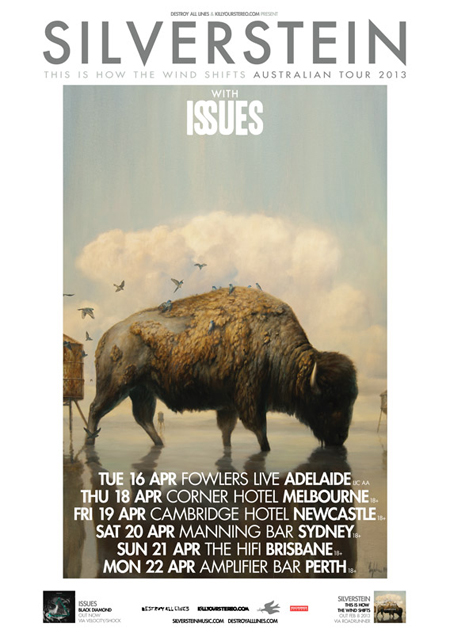 Destroy All Lines & Killyourstereo.com present
SILVERSTEIN
This Is How The Wind Shifts Australian Tour 2013
There will be no time to rest for SILVERSTEIN as they return to Australia this April to unveil their seventh studio album This Is How The Wind Shifts (Roadrunner Records).

Formed in 2000 in Burlington, ON Canada, SILVERSTEIN has become as close to a household name as you can get in the post-hardcore scene. Having played more than 1500 shows in 34 countries SILVERSTEIN have been a staple on many festivals and tours. Which have included the likes of Vans Warped Tour, Take Action!, Taste of Chaos, Rock Am Ring (Germany), Soundwave, Give it a Name (UK), and also co-founded the Scream It Like You Mean It tour in 2010.

Coming off their successful Rescue tour in Australia last June SILVERSTEIN played to three out of five sold out ticketed shows, presenting to the fans tracks from both the critically acclaimed long player Rescue and 'mini album' Short Songs. The new full-length This Is How The Wind Shifts will take the fans on a journey on how a person's life can change forever with just one event. "The idea of this album is how a persons life can change forever with just one event. It is the "what if" that everyone thinks about from time to time. This album is different from a typical start to finish story concept album, or an album where all the songs have a common theme." Says vocalist Shane Told. After 5 full-length albums, 3 EP's, a live album, mini album, and numerous 7" singles and collections, SILVERSTEIN have sold more than 1 million albums worldwide and have no intentions of slowing down.

Joining SILVERSTEIN on the road are highly anticipated Atlanta six piece ISSUES. Having just released their debut EP Black Diamonds the audience should expect a raw and honest performance that they can directly relate to. "We are all Black Diamonds in the rough. Our fans are all Black Diamonds as well", Carter (ex Woe, Is Me) declares.
Tickets On Sale NOW!
Need your live music fix?