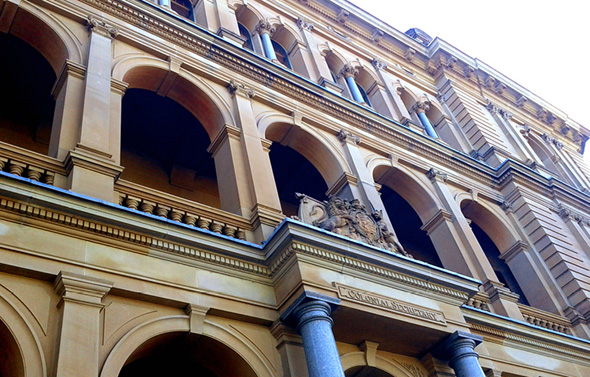 Historic Houses Trust of NSW presents
SYDNEY OPEN 2012
Fall in love with your city!
Presented by the Historic Houses Trust of New South Wales, Sydney Open is a biennial event that gives Sydneysiders the opportunity to embrace their city by exploring its architectural heart. On the first weekend of November 2012 the doors to Sydney's best loved buildings will be thrown open, you'll be taken behind the scenes to discover just what makes them tick.

SYDNEY OPEN NIGHT
The weekend kicks off on Friday 2 November with Sydney Open Night, which provides behind-the-scenes access to five iconic buildings. Best of all, it's absolutely free (from 6pm - no bookings required). For a full list of buildings, opening times and exclusive Fresh Catering pop-up bar locations, go to Sydney Open Night >

FOCUS TOURS
Saturday 3 November marks the next step in your big city romance as you head out on one of the Sydney Open Focus Tours. Led by the buildings' architects or owners, these tours are incredibly popular so it's best to book early to avoid feeling like a jilted lover.

A Focus Tour is a unique way to fully appreciate and experience a special building. You'll discover fascinating facts about its inception, architecture, history and the colourful characters that made its creation possible. Ticket prices include Oztix booking fee & credit card surcharge.See all Focus Tours >

CITY PASS
Sunday 4 November is the big day. This is when you and thousands of other curious Sydneysiders will fall in love with your city. They'll provide you with a map to help you to find your way around, and a City Pass wristband to get you into special places. Don't forget to download your Sydney Open 2012 Planner app so you can short-list your favourites.

You're about to get up close and personal with 50 of Sydney's best loved buildings. Some will be familiar and others you might never have noticed before, but by the end of the day, you'll know them inside and out. It's time to hit the streets.

A City Pass ticket gives you access to 50 of Sydney CBD's best loved buildings. Prices start from $32.15 and include Oztix booking fee & credit card surcharge.See the full list of City Pass buildings >
Tickets On Sale Now!