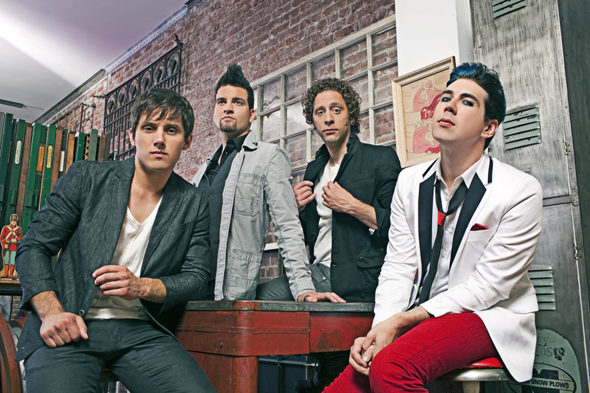 Live Nation Australasia presents
MARIANAS TRENCH
Debut Australian Tour Announced!
For the first time in Australia, Canada's pop punk quartet Marianas Trench will hit the stage for a trio of headline shows this September.
Following the earlier announcement of their appearance at Fat As Butter, Marianas Trench will head to Melbourne's Corner Hotel (Sept 24) and Brisbane's The Zoo (Sept 25) before winding up their debut Australian tour at Metro Theatre, Sydney (Sept 26).
2012 has already been a good year for the Vancouver locals with the success of their first single lifted from 'Ever After', their third studio album release. 'Haven't Had Enough' sparked radio plays and a worthy addition to MTV's Most Wanted list here, whilst at home the single and video hit #1 on the iTunes charts, with digital singles sales surpassing platinum.
'Fallout', the second track to be lifted from 'Ever After' and a platinum selling hit in North America, goes to radio Monday July 23.
Currently scheduled for festival shows through their summer, the band recently completed US and Canadian tours as special guests to musical cohorts Simple Plan, and released a third single, 'Desperate Measures', in North America earlier this month.
Marianas Trench released their debut album 'Fix Me' in 2006 followed by 'Masterpiece Theatre' in 2009 featuring platinum singles 'Cross My Heart', 'All To Myself', 'Beside You' and 'Celebrity Status'.
Their latest album offering 'Ever After' is a soundtrack constructed around a story written by frontman Josh Ramsay (producer and co-writer of fellow Canadian Carly Rae Jepsen's #1 smash 'Call Me Maybe'), described as: "a warm throwback to the album era when your music was more than a bunch of orphaned songs sitting on an endless iPod playlist."
Tickets On Sale Now!
Need your live music fix?