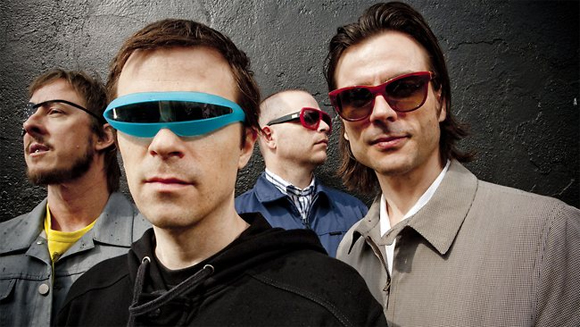 WEEZER TO TOUR AUSTRALIA
FOR THE FIRST TIME IN SIXTEEN YEARS
PLAYING THEIR GREATEST HITS AND 'THE BLUE ALBUM' FROM START TO FINISH
It has been sixteen long years since Weezer's one and only tour of Australia. After incessant rumours of potential tours, the resultant fervour that has taken over the nation's music fans remains unrivalled. Chugg Entertainment is excited to be bringing the band to our shores, with the opportunity to vindicate the enthusiasm and persistence of their fans all over the country. Greater still, their tour brings with it a follow thru from their recently announced US concept shows; performing a collection of greatest hits and rarities in addition to The Blue Album, from start to finish.
With material spanning the best part of two decades, Weezer remain committed to their roots. They have spent the past year sending ardent fans into fits of nostalgia, playing their two seminal albums from the 90s in their entirety.
Whether they were setting sail with thousands of fans to Mexico on their inaugural Weezer Cruise or sharing the stage (and signature space balls) with the Flaming Lips, the band were always quick to hark back to their early material that has proved to be so influential on today's musical landscape. With their satiating practice of playing albums in full, last month Weezer announced they'd be wrapping up 2012 with a series of shows in USA featuring their seminal eponymous debut and its revered follow up Pinkerton.
As luck would have it, the band are bringing this tradition to our shores and will be playing their legendary debut, affectionately known as 'The Blue Album', in full which will be prefaced by the band's greatest hits and rarities.
Emerging in 1994 as four awkwardly geeky young men from California, Weezer have surpassed anyone's expectations and have gone from being the unlikely cult heroes of 90s alt-rock to consummate arena rock luminaries.
Throughout this ever-evolving career, the band has cultivated an interactive relationship with their fans old and new. They have worked to create an unsurpassed experience for these fans both on and off the stage.
Weezer's long anticipated return will finally bring this special experience to Australia. .
Tickets On Sale THURSDAY 26TH JULY, 9AM (local time)
Need your live music fix?