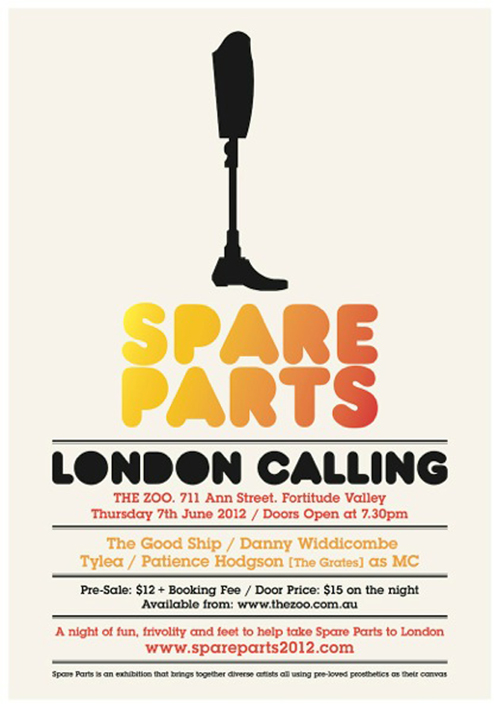 Spare Parts
London Calling
In 2010 Spare Parts was one of the most vibrant and exciting exhibitions held in Brisbane. It bought together a diverse range of artists all using pre-loved prosthetic limbs as their canvas.
The success of the 2010 exhibition led curator Priscilla Sutton to consider taking the exhibition to London in 2012. And now - a venue has been booked just off Brick Lane, a fresh batch of prosthetics have been collected, and artists from Australia, United Kingdom, America and Japan are all working away on what will become the second phase of Spare Parts. To make Spare Parts possible, Priscilla relies on generous funding and sponsorship. But as you can imagine, taking an exhibition to London is going to be very expensive, and this is where Brisbane gets involved once again!
A benefit show will be held at The Zoo in Fortitude Valley on Thursday 7th June 2012. The Zoo is Priscilla's old stomping ground, where she worked for many years, and also had her Foot Farewell party back in 2005, before having her leg amputated.
To bring the night together Priscilla has called on friends from her time working in music, including The Good Ship, Danny Widdicombe, Tylea, as well as comedian Jenny Wynter, and Patience Hodgson from The Grates as MC! Some of the artworks from 2010 will be on display, and there will also be an opportunity for everyone to be included in the 2012 exhibition!
There are raffle packs up for grabs which will be drawn on the night, and prizes include a double pass to Soundwave 2013, a voucher for Rokstar, an accessory pack from dogstar, books from GoMA and signed merchandise from Powderfinger. More info on the raffle packs here.
Tickets to the Zoo show, London Calling, are available now!
Tickets On Sale Now!
Need your live music fix?