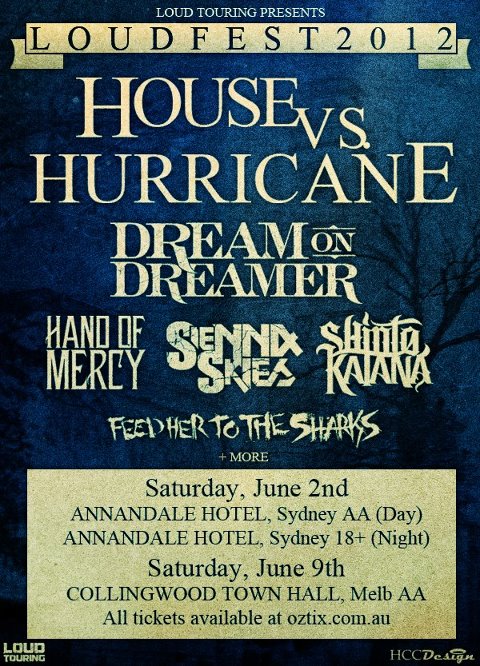 LOUD FEST 2012
LOUD FEST is back for the second year in June, and what better way to ensure another sell out for the festival than by getting two of Australia's hottest heavy acts to headline. With three shows spread between Sydney and Melbourne including a massive lineup in both cities, it's sure to be the biggest LOUD FEST yet.
The main headliner, House Vs Hurricane are currently recording their new forthcoming album, Crooked Teeth which will see its release on June 29th via UNFD. These shows will be their first shows since acquiring new frontman Dan Casey into their line up. With the first single from Crooked Teeth due in early May, the band plans to have at least two new songs out by the time LOUD FEST comes around.
The other headliner is Dream On Dreamer, who have spent the last 9 months touring Europe, Asia and the USA consistently. These are the first capital city shows the band has played in Australia since they played to thousands of people a night on their afternoon slot on Soundwave. Their new single Midnight Thoughts is available on iTunes.
Joining the two massive headliners for the three date stint are a number of local heavyweights including Sydney's Hand Of Mercy, Sienna Skies and Shinto Katana, and Melbourne's Feed Her To The Sharks. Rounding up the lineup are local acts in each city, which will be announced over the next few weeks.
Tickets On Sale Now!
Need your live music fix?