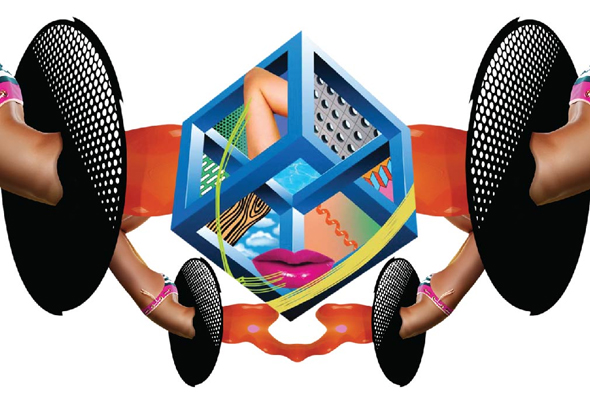 Channel [V] and Nova present
SNEAKY SOUND SYSTEM
From Here To Anywhere Tour
"Hallelujah for Sneaky Sound System! A welcome antidote to everything polluting the airwaves right now." - Herald Sun Melbourne
"Incredible. Nothing short of a cross-generational smorgasbord." – MTV Buzzworthy NYC
"Magical techno beats and flawless production." – Drum Media Sydney
"A minor pop masterpiece." – Rave Magazine Brisbane
"A polished, near-perfect electro collection." – Attitude Mag UK
"A delicious feast of world-class dance pop songs." – Daily Telegraph Sydney
When their third album From Here To Anywhere was released late last year, it set ears on fire around the globe and first singles We Love (since certified Gold) and Big took up residency at the top end of the club chart.
Now, in their first tour since the album's release, Sneaky Sound System's Miss Connie and Black Angus are set to take their already legendary banging club show on the road, adding extra surprises, production and mischief to deliver one hell of night. Miss it at your peril!
The dates mark Sneaky's return to Australia from shows in Asia and the US, and are their last local shows before the duo spend a fourth consecutive northern summer in the UK and Europe, and after that relocating to the US for an indefinite period.
Meantime Really Want To See You Again, the electric third single from the album, will be released Friday 9 March with a collection of top-notch remixes including Funkagenda, KiNK, Azari & III and Jam Xpress. The video, a modern twist on raw 90s production, was shot earlier this month in icy London and hits screens February 28.
Looking ahead expect collaborations from Sneaky Sound System with Erick Morillo, Funkagenda, Aeroplane, Riton and Hook & Sling, add to that Foxtel's use of Big in their massive Olympics campaign, an appearance at Sydney's Mardi Gras and Adelaide's Clipsal 500, a quick trip to Kuala Lumpur for Future Music's inaugural festival there, and things are indeed shaping up to take Black Angus and Miss Connie From Here To Anywhere.
Tickets On Sale Now!
Need your live music fix?