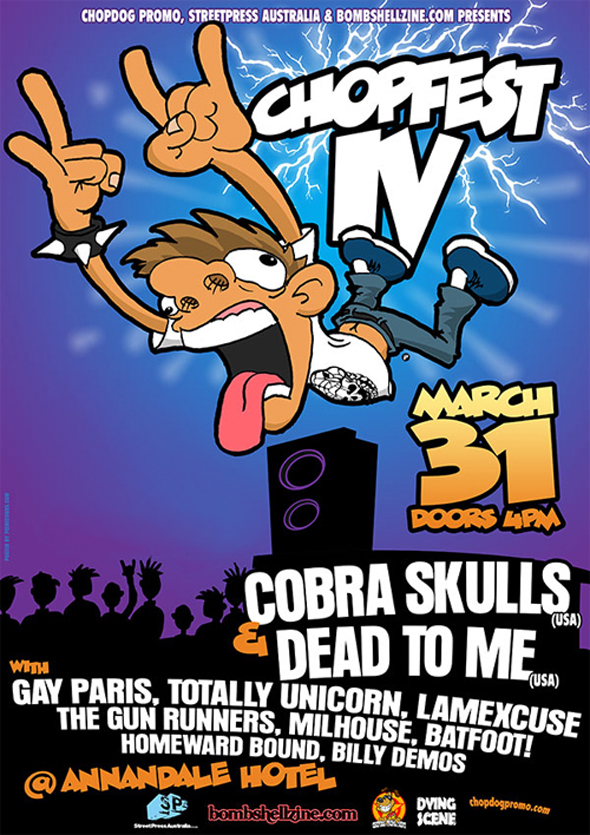 Chopdog Promotions, Bombshellzine.com and Street Press Australia present
CHOPFEST IV
Dead To Me / Cobra Skulls
Chopdog Promotions and Bombshellzine.com presents DEAD TO ME & COBRA SKULLS "All Drive, No Lullabies" Australian Tour 2012. Over March and April 2012, San Francisco's DEAD TO ME and Reno's COBRA SKULLS will team up for an Australian tour covering four states over nine dates. Friends, not only by label but by the large stretches of road they've covered together in the United States and Canada.
These two bands embody the modern day punk scene, if there is one at all and will be teaching "Aussies" a thing or two. With a shuffling line-up, DEAD TO ME in their current incarnation will be supporting their third-full length, "Moscow Penny Ante," which is undoubtedly their best and most confusing work to date.
"Moscow Penny Ante is a bold statement, so I'll end with a bold statement of my own; Dead to Me has released the best punk rock album of 2011." - Punknews.org
COBRA SKULLS may be the baby on the Fat Wreck Chords roster but it's the hard miles, two full-lengths and dedication to making no money on Chicago based label, Red Scare Industries that saw them get snapped up by Fat. After working with Mike Burkett to quickly record their first Fat offering, "Bringing The War Home," it wasn't long before the punk world was screaming for more. In 2011 the band released "Agitations" to critical acclaim across the punk community.
"Fans, newcomers, whoever will find Agitations to be a well-rounded, entertaining album full of genre-bending aggression and tongue-in-cheek lyrics, satisfying ears tuned to just about anything." - Punknews.org
Joining them for the ride will be Canberra outfit, LAMEXCUSE. Having laid dormant since 2009 while members went on to other exploits, the band have recently become active again and 2012 is set to be their biggest year since they sprung into action in 1998.
Tickets On Sale Now!
Need your live music fix?