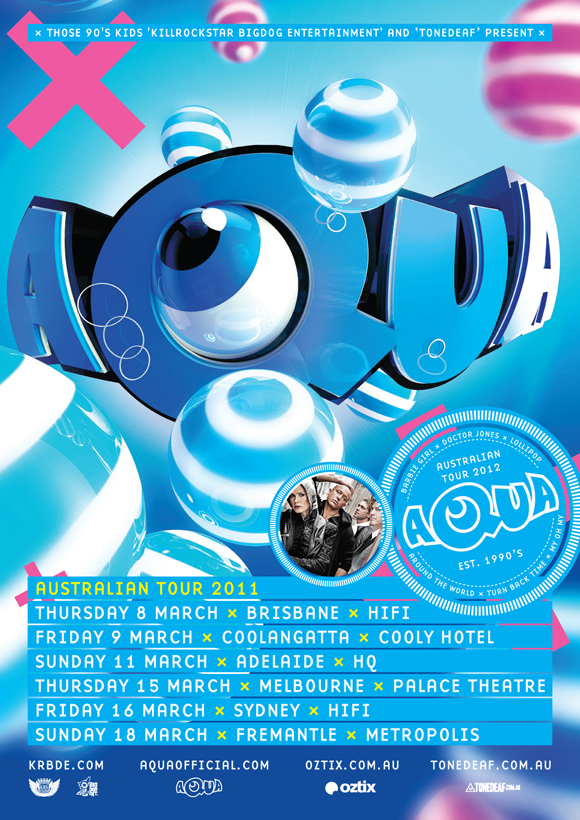 Those 90's Kids, 'KillRockStar Big Dog Entertainment' and 'Tonedeaf' present
AQUA
Australian Tour 2012
Arguably the biggest pop/dance crossover acts of the 90's, AQUA are making their long awaited return to Australia this summer to perform all of the number one hits that made them a household name the world over and saw them sell in excess of 33 million albums and singles.
With songs like Barbie Girl, Doctor Jones and Lollypop (Candyman), sweet-toothed Australian pop fans embraced AQUA making this country one of the most successful markets for the group. Featuring the original line-up of vocalists Lene Nystrøm and René Dif, keyboard player Søren Rasted and Claus Norreen on guitar, AQUA are set to rekindle their Australian love affair by bringing the pure pop delight they are famous for to life right across the country.
Claus Norreen and Søren Rasted started writing songs together in 1989. The pair then met keyboardist René Dif after hiring the musician to come and work on a soundtrack that the pair had won a competition to produce. After sensing that the trio shared a great musical chemistry it was decided they would work together on future projects. On seeing vocalist Lene Nystrøm singing on the Norway-Denmark ferry Dif knew that he had found a vocalist to work with the newly formed trio and AQUA's first incarnation as Joyspeed was born.
As the band began to develop their trademark bubblegum dance pop sound they renamed themselves AQUA and landed themselves a record deal with Universal Music Denmark, it was this union that lead to the band's debut release under their new name. The track Roses are Red was a surprise hit for the group going platinum in Denmark, as did it's follow up Oh Me Oh My which broke all Danish sale records. From here AQUA commenced work on their debut album Aquarium which contained their biggest hit Barbie Girl.
Despite the single's overt sexual innuendo (and the lawsuit with Barbie's manufacturer Mattel that ensued), Barbie Girl went on to be a super smash hit landing number ones for the band in the UK and Europe, and a top ten on the Billboard Hot 100. In Australia Barbie Girl remained at the very top of the ARIA charts for three solid weeks. More success followed with the singles Doctor Jones, Lollypop (Candyman) and Turn Back Time, cementing AQUA's place as one of the biggest acts of the 90's.
As the group started to stretch themselves musically exploring different sounds so to did the cracks slowly appear, after the release of the band's second album Aquarius and in 2001 the band and a relentless touring schedule the band suddenly split in 2001. With the band on indefinite hiatus each individual member busied themselves with various solo projects before reconvening in 2007 on release of their greatest hits album. Now in 2011 AQUA are back with a brand new album Megalomania and a renewed desire to bring their music to fans live around the world.
Tickets On Sale JANUARY 9TH AT 9AM!
Need your live music fix?