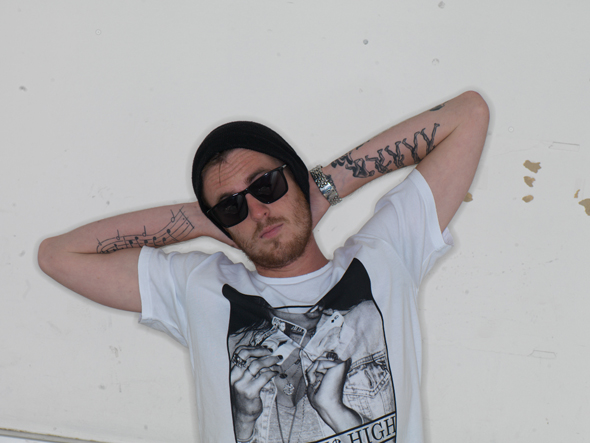 Spinning Half Presents
360
Falling & Flying Tour
As one of this countries most talked about up-and-coming artists, 360, the Melbourne twenty-something, numbers among a small handful of true to life, underground-reared emcees that can transcend the hip-hop genre and walk tall in a pop-dominated landscape.
One listen to his game-changing album Falling & Flying set for release on 30 September 2011 will confirm that, and then some.
To celebrate the release of the album, Sixty currently destroying radio airwaves nationwide with his Josh Pyke-assisted single Throw It Away and the new banger Killer is hitting the road in October and November for an 18 date tour around the country.
Sixtys shows will feature his brand new three-piece backing band, with Grey Ghost supporting at most venues.
In a genre replete with haters, Sixty has turned would-be tall poppy cutters from foes to fans through sheer social media genius and great music. He has endeared himself to fans both new and old, here in Australia and across the world, thanks to a completely open approach to fan-artist interaction and a constant stream of new, free, intensely listenable music.
Its no wonder then that he already has 57,000+ fans on Facebook without a new album in stores a number thats growing daily.
And as the father of the Rapper Tag phenomenon which has already accumulated 1 million+ collective views on YouTube and participation from the likes of Drapht, Bliss N Eso & the Hilltop Hoods its clearly no fluke.
Theres the Whitest Boy Alive-sampling first single Just Got Started; the Josh Pyke-featured follow-up Throw It Away (both cooked up by Melbourne buzz producer Styalz Fuego, the key musical contributor to F&F); and the anthemic third offering Killer already receiving the remix treatment from some of clublands finest.
But its the hidden gems on Falling & Flying that really hit home. Indie darling Gossling shows up for two irresistible collaborations the sweaty dancehall-flavoured Boys Like You and the heart-rending Miracle In A Costume while hip-hops it producer M-Phazes (fresh from working with the likes of Talib Kweli and Pharoahe Monch) drops a certified bomb on Hope You Dont Mind, allowing Sixty to vent in a way rarely heard in emotion-wary Australian hip-hop circles.
Its truly game-changing music and what else would you expect from an artist on the cutting edge of the social media frontier? He might never give you a straight answer about his nom de plume, but straight answers are boring anyway. Falling & Flying isnt. And neither is 360.
Catch up with 360 on the Falling & Flying tour throughout October/November and see what all the fuss is about.
Tickets On Sale Now!