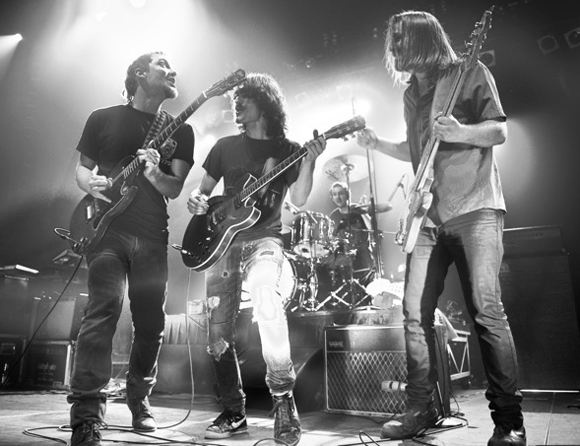 THIRSTY MERC
One of Australia's most recognised bands, THIRSTY MERC, present yet another cracking hit-laden album. In MOUSETRAP HEART, their 3rd and most engaging studio album to date, the home grown four piece reveal more and more of their startling level of musicianship.
Featuring some of the finest instrumentalists in the country, THIRSTY MERC continue to raise the bar and the world is taking notice, with the band recently notching up a #3 single on New Zealand iTunes with crowd favourite Tommy and Krista and a #1 on Australia's domestic artist airplay charts with Mousetrap Heart.
In addition, the peer voted 2011 APRA Song of The Year Top 20 shortlist features not one but TWO entries for Thirsty Merc, with 'Mousetrap Heart' and 'All My Life' in contention for the upcoming prestigious songwriting award. With their third studio album MOUSETRAP HEART, Thirsty Merc set out to reinvent themselves and the results couldn't be more pleasing.
"Yeah, it's a leap," singer Rai Thistlethwayte says. "It just feels like it's different in the best possible way. It's exciting!" Everything is sounding funkier, tighter and with a slightly sharper edge.
The new album is spearheaded by new favourites 'Mousetrap Heart', 'All My Life' and 'Tommy & Krista', which stand shoulder-to-shoulder with Thirsty Merc's already impressive swag of hits, including 'In The Summertime', '20 Good Reasons', 'Someday Someday', 'The Hard Way' and 'Emancipate Myself'. It all sounds darned good on record, and gets even better in concert when Thirsty Merc are in their element putting their highly revered talents on display.
Catch THIRSTY MERC on tour as they take the stunning new album MOUSETRAP HEART on the road in 2011.


SEARCH FOR TICKETS NOW


| | | | | | | |
| --- | --- | --- | --- | --- | --- | --- |
| 26.Aug.11 | | The Espy Hotel , ST KILDA | | VIC | | |
| | | | | | | |
| --- | --- | --- | --- | --- | --- | --- |
| 27.Aug.11 | | Catalyst at Bridgway Hotel, POORAKA | | SA | | |
| | | | | | | |
| --- | --- | --- | --- | --- | --- | --- |
| 08.Sep.11 | | Hoey Moey Hotel, COFFS HARBOUR | | NSW | | |
| | | | | | | |
| --- | --- | --- | --- | --- | --- | --- |
| 09.Sep.11 | | Panthers Port Macquarie, PORT MACQUARIE | | NSW | | |
| | | | | | | |
| --- | --- | --- | --- | --- | --- | --- |
| 10.Sep.11 | | Club Forster, FORSTER | | NSW | | |
| | | | | | | |
| --- | --- | --- | --- | --- | --- | --- |
| 11.Sep.11 | | Caves Beach Hotel, CAVES BEACH | | NSW | | |
| | | | | | | |
| --- | --- | --- | --- | --- | --- | --- |
| 01.Oct.11 | | Coolangatta Hotel, COOLANGATTA | | QLD | | |