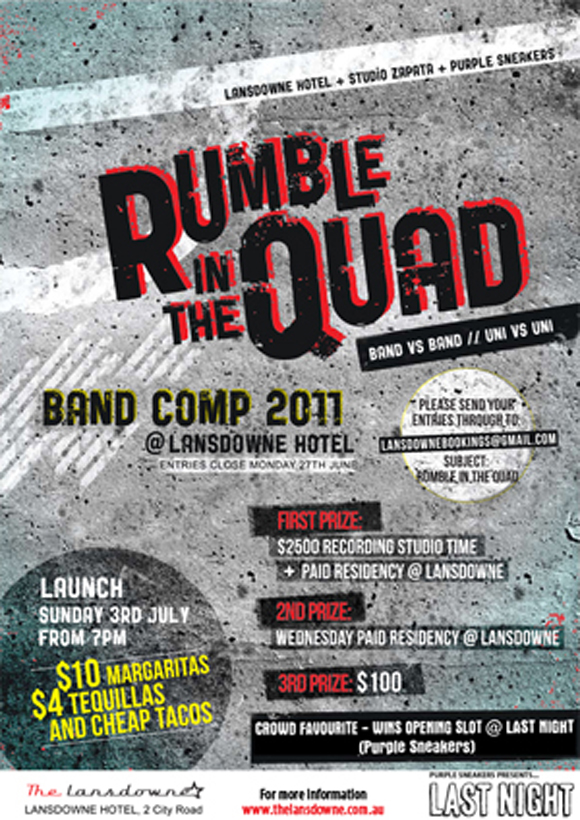 RUMBLE IN THE QUAD
Rumble In The Quad is a new Band Competition that is being held at the Lansdowne Hotel, starting on the 3rd July 2011.
HOW IT WORKS
This competition is between the TOP 24 BANDS who enter and are selected to take part of this inaugural competition. The first 8 weeks will be seen as the rounds to compete against one another to make the FINAL 8.
Once you have made it into the FINAL 8, industry judges will judge you and only the 4 best bands will then make it to the FINAL 4 night to be held on Sunday 18th September.
THE PRIZE PACKS
Each week the best band on the night will receive $100 cash for their effort plus they get to move onto the next round.
1st OVERALL
$2,500 recording studio time @ Studio Zapata (Art vs Science and Dappled Cities) + Paid Residency @ Lansdowne Hotel
2nd OVERALL
Wednesday Paid residency @ Lansdowne Hotel
3rd OVERALL
$100 Cash prize
CROWD FAVOURITE
Purple Sneakers have offered the opening time slot for LAST NIGHTS @ The Gaelic Judging will be based on a 100 points system and judged leading up to the finals by the sound engineer (the person with that loves to give their opinion) as well as the staff from the hotel, it will be broken down as follows:
• 30 Points – Original Style
• 20 points – Stage Presence
• 20 Points – Technical Ability
• 10 Points – Recording Viability
• 20 Points – Audience Response
To enter RUMBLE IN THE QUAD please email lansdownebookings@gmail.com with your bio, facebook, myspace, youtube, soundcloud, triple j unearthed, PLUS NOMINATE WHAT UNI / COLLEGE YOUR ASSOCIATED WITH or any other information you have.
Unlike other band competitions there is a twist to this one as is also all about showing your school spirit and support of bands that come from your university.