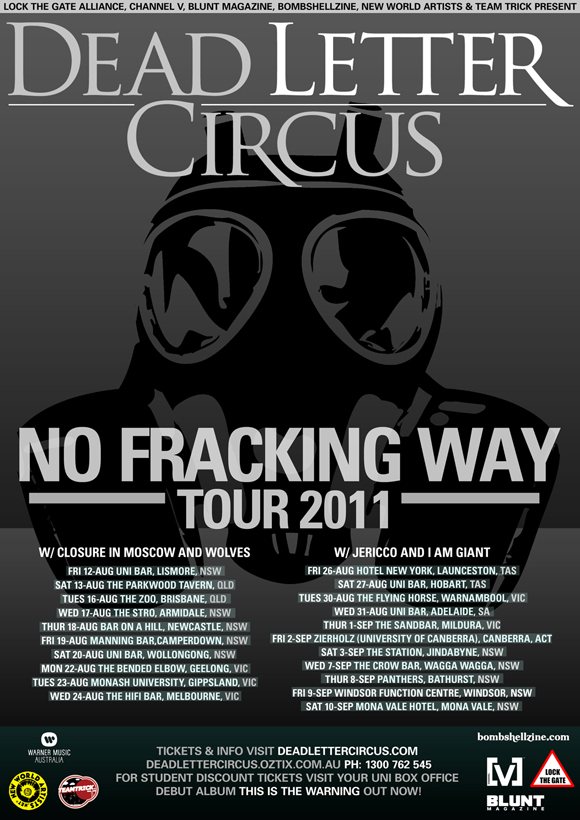 DEAD LETTER CIRCUS
Dead Letter Circus are pleased to announce the 'NO FRACKING WAY TOUR'.
Every day we take drinking fresh water for granted, water is as essential as clean air to life on earth. Protecting these two natural resources must be the highest priority to sustain life on planet earth and to protect the planet for future generations to come.
If you've seen the 'Gasland' documentary you'll know the many risks attached to coal seam gas (CSG) operations. For those who haven't caught the doco, CSG is a fossil fuel and a significant source of greenhouse gas pollution.
On a lifecycle basis it generates more than 40 times the amount of greenhouse gas per unit of energy generated than solar or wind energy. What you may not be aware of is the fact that there are plans to drill more than 40,000 CSG wells in Queensland alone.
We are experiencing the early stages of an industry that has a massively destructive impact on local land and communities, as well as an enormous greenhouse footprint.
Dead Letter Circus firmly believe that Australia needs to follow France's lead and say no to CSG operations and the method of Hydraulic Fracturing (Fracking), a controversial technique used to extract natural gas and oil trapped in underground rock formations by injecting a mixture of water, sand and toxic chemicals at high pressure to crack open the rock and release the fossil fuels. Fracking places our water at direct risk of contamination.
Dead Letter Circus will be raising awareness towards this issue during their Aug/Sept tour. There will be a petition for punters to sign and information available for anyone who is interested in learning how they can further help prevent this destructive method gaining a foothold in Australia.
For more info on the environmental consequences of CSG please visit www.lockthegate.org.au and if you wish to help join the Lock The Gate Alliance.
For the first 10 tour dates DLC will be supported by Closure in Moscow and Wolves.
CLOSURE IN MOSCOW
After a swirl of buzz culminated in signing a US record release, Melbourne quintet Closure In Moscow have racked up some serious touring experience, playing their thrilling brand of pop-laden rock/prog all over Australia, Japan and the US. The band recorded and released their debut full length "First Temple" in 2009 which produced the #1 independent single (Sweet#hart), and gained a swag of critical praise all around the world. www.facebook.com/closureinmoscow
WOLVES
With a sound that channels the epic alt rock of the Smashing Pumpkins, the swagger of Bowie and the romanticism of the Cure comes Perth's latest world class export, Wolves. After several spins of their debut single 'Children' on triple j the band are ramping up to the release of their amazingly self-assured debut album 'Thieves and Lovers', produced by Sylvia Massy in Weed, California. www.facebook.com/wolvesonline
For the final 11 tour dates DLC will be supported by Jericco and I Am Giant.
JERICCO
Rock outfit Jericco possess a sound and wisdom that is both ancient and eclectic in its origins and as most rock bands are defined by their live show, this Melbourne alternative powerhouse is no exception. After two highly successful EPs, Jericco releases its debut live album 'JERICCO LIVE' on July 15th. Recorded at various Australian venues the live set features three new songs as a bonus for the legion of loyal fans and a testimonial to Jericco's live prowess. www.facebook.com/jericcoband
I AM GIANT
With their massive sound and irresistible hooks, I Am Giant are fast collecting fans across the globe – both industry and punters alike. Based in London, the band consists of two ex-Blindspott members, drummer Shelton Woolright and guitarist Aja Timu, along with Ed Martin on vocals and Paul Matthews on bass. I Am Giant have recently finished recording their debut album 'The Horrifying Truth' with acclaimed producer Forrester Savell, and the album is due for release in August. www.iamgiant.com


Need your live music fix?
Search for KARNIVOOL here.
Touring June - July 2011

Search for THE GET UP KIDS here.
Touring August 2011

Search for THE PANICS here.
Touring July 2011