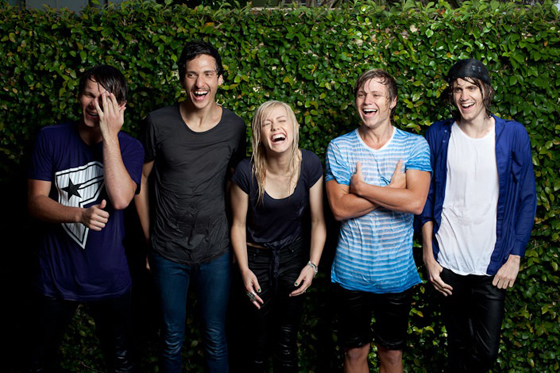 TONIGHT ALIVE
Formed in 2008 and having played along side artists such as Mest, 3OH!3, Flatliners, Fireworks, Valenica, Lostprophets, The Blackout and The Wonder Years, these Sydney pop punkers have sold in excess of 20,000 copies of their debut and self-funded EP, 'All Shapes and Disguises' (released June 2010) solely in Australia and Japan.
November 2010 saw the release of their 3 track Vinyl EP 'Consider This' (also available on iTunes) and their national headline tour with Sienna Skies.
The band are currently in Los Angeles recording their debut album with Mark Trombino (Blink 182, Jimmy Eat World, The Starting Line) before returning to Australia to hit the road again throughout February to support The Getaway Plan on their Australian tour.
Already listed as one of the top 10 Aussie bands of all time on the legendary rock radio station KROQ in the US and reaching the #1 position on iTunes alternative charts and US Pure Volume charts, the album will be released in mid 2011 via Sony music.


SEARCH FOR TICKETS NOW


| | | | | | | |
| --- | --- | --- | --- | --- | --- | --- |
| 03.Jul.11 | | Ding Dong Lounge, MELBOURNE | | VIC | | |
| | | | | | | |
| --- | --- | --- | --- | --- | --- | --- |
| 06.Jul.11 | | Princess Theatre, WOOLOONGABBA | | QLD | | |
| | | | | | | |
| --- | --- | --- | --- | --- | --- | --- |
| 07.Jul.11 | | The Step Inn, BRISBANE | | QLD | | |
| | | | | | | |
| --- | --- | --- | --- | --- | --- | --- |
| 13.Jul.11 | | The Harp Hotel, WOLLONGONG | | QLD | | |