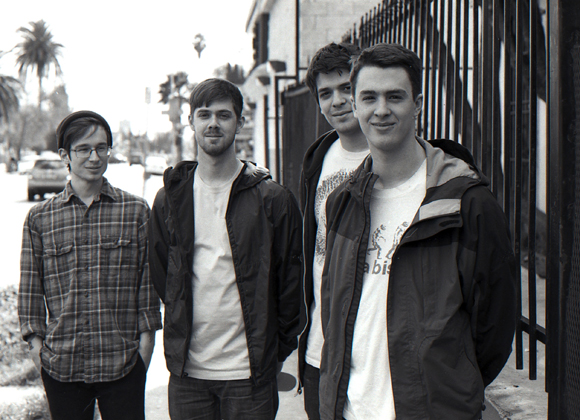 Title Fight
Finally! Someone has breathed some life back into the punk rock scene…
Their name is TITLE FIGHT.
Finally! A band who is cutting through the rubbish and play what's in their hearts.
The release of their brilliant new album 'Shed', has seen TITLE FIGHT catapulted to the top of the punk world. NME declare 'Shed' "might just be one of the best punk rock debuts of the year" and TheBykerack.com justly assert "Shelve this one under 'future classic punk'".
TITLE FIGHT have been building music communes one fan at a time with their unpretentious and intensely passionate live show.
"Their set puts everyone on the same wavelength: fat bearded guys with flannels, pin punks, emo nerds... everyone seemed to be under the spell of the four kids from Kingston." - Alterthepress.com
TOUCHÉ AMORÉ have awoken something long forgotten in punk/hardcore. Their live set is a mass outpouring of anger and emotional honesty, which unites into something striking, vulnerable, and refreshingly real.
Their shows turn spectators into converts,
"Highlights come when the instruments are broken off, leaving the audience to shout the band's lyrics back at them in moments of pure euphoria" - CaughtintheCrossFire.com
Having in common their "straight up" approaches and vehement fan bases TITLE FIGHT and TOUCHÉ AMORÉ will be hitting the road together around Australia this September.


SEARCH FOR TICKETS NOW


| | | | | | | |
| --- | --- | --- | --- | --- | --- | --- |
| 08.Sep.11 | | The Old Museum, BRISBANE | | QLD | | |
| | | | | | | |
| --- | --- | --- | --- | --- | --- | --- |
| 09.Sep.11 | | The Metro Theatre, SYDNEY | | NSW | | |
| | | | | | | |
| --- | --- | --- | --- | --- | --- | --- |
| 10.Sep.11 | | Billboard The Venue, MELBOURNE | | VIC | | |
| | | | | | | |
| --- | --- | --- | --- | --- | --- | --- |
| 11.Sep.11 | | Fowlers Live, ADELAIDE | | SA | | |
| | | | | | | |
| --- | --- | --- | --- | --- | --- | --- |
| 13.Sep.11 | | Capitol, PERTH | | WA | | |