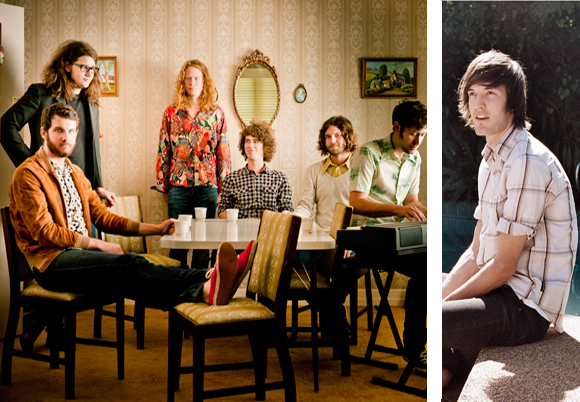 The John Steel Singers & Jonathan Boulet
'Here's Johnny' Tour
The teaming up of two of Australia's most promising acts; The John Steel Singers and Jonathan Boulet, who will hit the road on a joint double headliner in March, bringing a few friends along the way. It has been a busy and exciting period for the two groups.
The John Steel Singers, having recently released their debut album 'Tangalooma', and were very surprised when lead single 'Overpass' made it to #52 in triple j's Hottest 100 for 2010.
After having just got finished up on the road with the album tour itself, they're busting to get back out again with the well-loved Jonathan Boulet.
Busy might be an understatement for the bedroom boffin Jonathon Boulet, who has spent the better part of the past year touring constantly with Parades, producing for Little Scout and Megastick Fanfare and remixing The Holidays, Wolf & Cub and more, and somehow has still managed to find the time to start work on his second record.
The latest single 'You're A Animal' - a war cry of warrior angels, and a lurching, spinning call to arms - marks the taste of Boulet's new record due mid 2011, which is shaping up to be every bit as thrilling and joyous as his debut and then some.
The bands have a special treat for punters too.
If you purchase a ticket to the 'Here's Johnny' tour, you will receive TWO FREE EXCLUSIVE TRACKS from the acts.
They will be doing a spin-off of each others' songs, with Jonathan Boulet remixing the JSS' new forthcoming single "You've Got Nothing To Be Proud Of" and the JSS recording a cover of "You're A Animal" by Boulet.
More details to come on this exclusive offer … John Steel Singers + Jonathan Boulet + 2 FREE exclusive songs = Awesome!
Both bands will have more surprises for punters at the shows themselves but you have to be there to find out!

SEARCH FOR TICKETS NOW


| | | | | | | |
| --- | --- | --- | --- | --- | --- | --- |
| 09.Mar.11 | | The Northern, BYRON BAY | | QLD | | |
| | | | | | | |
| --- | --- | --- | --- | --- | --- | --- |
| 10.Mar.11 | | The Spotted Cow, TOOWOOMBA | | QLD | | |
| | | | | | | |
| --- | --- | --- | --- | --- | --- | --- |
| 11.Mar.11 | | Kings Beach Tavern, CALOUNDRA | | QLD | | |
| | | | | | | |
| --- | --- | --- | --- | --- | --- | --- |
| 16.Mar.11 | | UNE Armidale - The Bistro, ARMIDALE | | NSW | | |
| | | | | | | |
| --- | --- | --- | --- | --- | --- | --- |
| 17.Mar.11 | | Bar On The Hill , NEWCASTLE | | NSW | | |
| | | | | | | |
| --- | --- | --- | --- | --- | --- | --- |
| 18.Mar.11 | | Uni Bar, WOOLOONGONG | | NSW | | |
| | | | | | | |
| --- | --- | --- | --- | --- | --- | --- |
| 25.Mar.11 | | Karova Lounge, BALLARAT | | VIC | | |