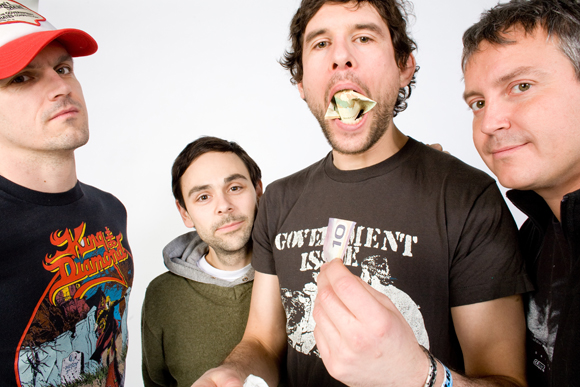 Blue Murder Touring Presents
PROPAGHANDI
PROPAGANDHI AUSTRALIAN TOUR, MAY 2011
Secret internal cables released early Monday morning by controversial whistle-blower website Wikileaks, have provoked an unprecedented 694-day debate in Australian Parliament.
The cables suggest, contrary to public pronouncements from the Gillard government, that the unbelievably good looking Canadian hard rock band Propagandhi have no time-line for withdrawal from their extremely unpopular mission in Australia.
Propagandhi have warned against handing over responsibility for security in Australia to any of the completely self-serving total assholes that tend to get involved in federal politics in the first place, insisting the transition must be tailored to the conditions on the ground.
Quoted in the heavily-redacted documents is Propagandhi's Minister of Agriculture, Jordan D. Samolesky, who states that
"Propagandhi will not abandon Australia.
Propagandhi will not allow Australia to become a haven for terrorists.
Propagandhi will remain engaged in Australia until everyone is either dead, maimed or incarcerated.
Only then can democracy and freedom prevail. Now let us blaze!"
TICKETS ON SALE 9AM MONDAY 28TH FEBRUARY
Wed 18th May Corner Hotel Melbourne
Fri 20th May The Brisbane Hotel Hobart
Sat 21st May Adelaide UniBar
Sun 22nd May Capitol Perth
Tue 24th May Maram Bar Canberra
Wed 25th May Bar On The Hill Newcastle
Thu 26th May Metro Sydney
Fri 27th May Wollongong Uni Bar
Sat 28th May Coolangatta Hotel
Sun 29th May Hi Fi Brisbane